Abhirami Antadi Lectures
By
Sri R. K. Murthy (Kavi Kannan)
Language

Tamil

Format

MP3

# CDs

3

Sample

Price

Shipping & Handling + Donation to Mullaivasal Heritage Trust. Suggested donation $15/set.

Contact

[North America] Ravi Mayavaram

[India and rest of the world] K. Sundararaman
About the Author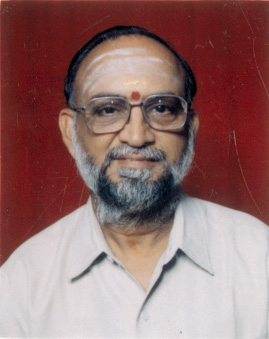 Sri R. K. Murthy (Kavi Kannan) was born in June 1944 in a family, which provided him with Carnatic music rich environment. It should be noted that Sri Karaikudi Mani, the Mridangam maestro, was his maternal uncle. Though Sri Kavi Kannan did not have any formal training in music, he picked up its intricacies at a very young age and he is a good singer. He graduated with a degree in Commerce and worked in a public sector insurance company. Sri Kannan specialized in the area of public relations, stress management and training. His training classes were very popular, which led to his continuing his training programmes even after he took voluntary retirement.
Sri Kavi Kannan's passion for Tamil literature, combined with his talent in art of speaking, came into fruition by the grace of jagan-mata, prompting him to deliver religious lectures. His project started with Abhirami Antadi. Sri Kavi Kannan created the lectures with the help of materials available from stalwarts like Sri Ki. Va. Jagannathan, Sri Kripananda Variar, Sri Suki Sivam and others. These lectures were delivered in Chennai, India. This was followed by lectures on Kamakshi Virutham, Kandar Anubhuti, Narayaneeyam, and Andal's Thirupavai. He draws inspiration for his lectures from his religious Guru Mullaivasal Sri R Krishnamurthy Sastrigal, former Principal of Madras Sanskrit College.
Turned as a Vagyeyakara (Composer of poems), he included his own composed songs in Tamil, which was tuned to carnatic ragas, in his lectures with religious fervour. He has become popular not only with Chennai audience but has also performed at many places outside Chennai. He is affectionately called as "Kavi Kannan", a title bestowed by Kanchi Mahaswamigal.
His lectures are recorded and are available in MP3 format. While there is no price for these audio lectures, devotees are requested to donate to "Mullaivasal Heritage Trust", which is created by Sri R Krishnamurthy Sastrigal for conducting Sastra patasala.